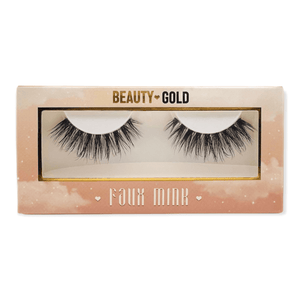 Brand New from our Beauty Gold Lash range. 
Our Faux Mink lashes are your new best friend - Welcome to the most comfortable & stunning lashes we have ever tried! Comfort is the most important part of being addicted to falsies. We were sick & tired of lashes that came loose, sharp corners that poke in your eye & heavy lashes weighing down our lids.
We have created our own beautiful range of lashes to solve all of these lash drama's & we know you are going to adore them just as much as we do!
Flirt is the perfect everyday-glam lash! Team it with a smokey eye for extra flirty vibes.

Adhesive Not Included.
Vegan Friendly.